If you are a homeowner who has decided that your décor needs a change, you may be searching for an affordable and simple solution such as an oriental runner. An excellent addition to any space, an area rug runner can be anything from a bold statement to a complementary flourish in your home. Updating a space is as easy as unrolling one of these beautiful floor coverings in the right spot to accentuate home furnishings or welcome guests on stairs and near entrances. At Massud and Sons, we believe that beautiful
products
for your household should be high quality at low prices—that's why we hand-pick the finest styles from a variety of reputable dealers to ensure that you are getting the best value! Read on to see how easy it is to order an oriental runner that can bring a new and exotic flair to your home.
Crafted by talented artisans with years of experience, our oriental area rug runners make imitators pale in comparison. Only the most beautiful and high-quality materials are used in the process of weaving these lovely products, and you can rest assured that they will stand the test of time. They can keep feet warm on winter mornings if placed above tile or hardwood floors and can offer plush comfort to sore feet at the end of a hard day's work. Offices, bedrooms, and dens all look a little more luxurious with the intricate colors and patterns, and an oriental area rug runner can be the perfect way to pull together any interior fashion design. You can even use them as inspiration for the colors to use in furnishings, wall paint, and artwork! The possibilities are endless, and each product is guaranteed to maintain its quality and come at a great price.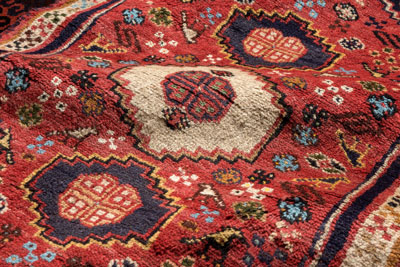 If you are looking to bring new light into any space in your home, consider one of the many oriental area rug runners from Massud and Sons. Call or visit one of our nearby locations to enjoy our fast delivery, low prices, high-quality products, and services today!